Data continues to suggest that the U.S Economy is slowing. The September U.S. manufacturing purchasing managers' index showed its lowest reading in 10 years at 47.8%i, as exports dived amid an escalating trade war. Consumers are also now expressing concern about the trade conflict. The University of Michigan's Surveys of Consumers showed in September that a near-record number of consumers cited trade policies as a negative factor weighing on the economyii.
Are we headed for a recession? It's too early to tell, and predicting recessions and the stock market declines that accompany them is extremely difficult.
Each year the Bespoke Group publishes a Prognostications Report that looks at the history of predictions of top strategists. Since 2000, the average gain predicted by Wall Street for the S&P 500 Index has been 9.8%iii. The actual return over that time has averaged been less than half that amount, at 4.5%iv.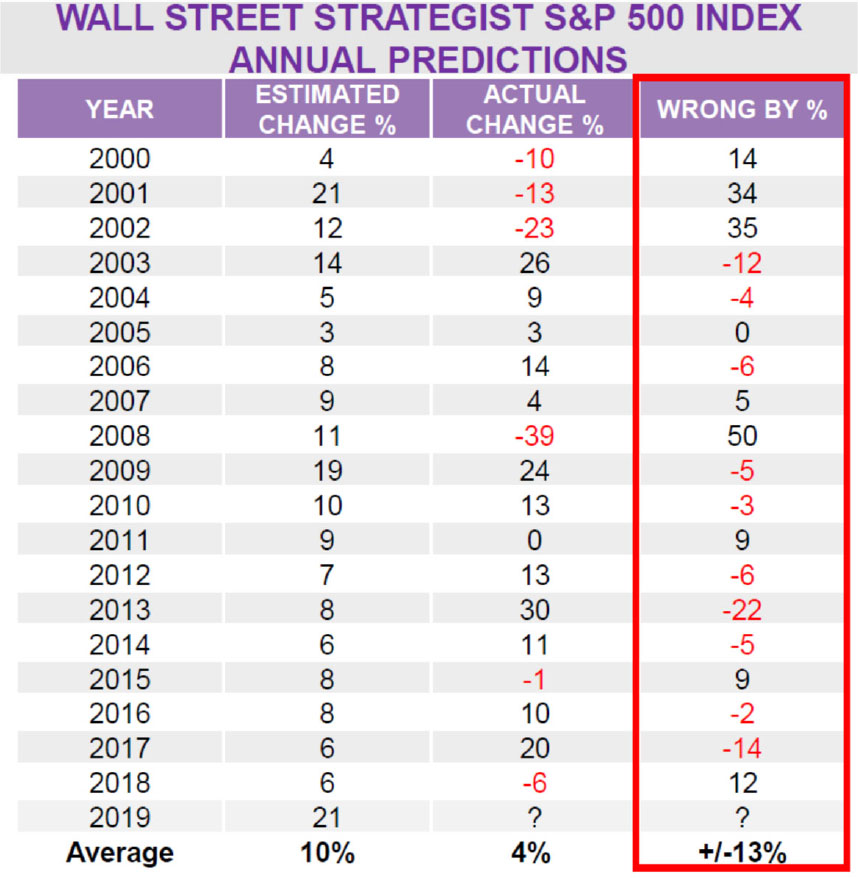 Source of Data: bespokepremium.com from the Bespoke Report-2019 Prognostication; Estimates for the period 1/1/2000 to 12/21/2018. Accessed 02/12/2019. The chart was modified with permission. Estimated change % calculated with average of strategists' prediction and 1/1/19 S&P 500 closing price. Accessed 1/31/2019. The Wrong By % Average was calculated using the absolute values rather than the actual values for each year, which was the method used for the other columns.
Even more revealing, however, was that during the past 18 years, Wall Street Strategists as a group never predicted losses. In 2002, for example, they predicted gains of 12%, only to see stocks fall by 23%. For 2008, the consensus called for gains of 11%. But the index fell by 39%.v
On average, strategists' predictions were 13% off of actual returns.vi If some of the world's most accomplished and informed strategists have such a dismal record of attempting to predict market direction, what hope is there for the average investor?
Finding Your Zen through All Type of Markets
We all know what it's like to be unprepared. In school, few things were/are more stressful than sitting down for a test without studying sufficiently. The key to investing is no different than taking tests: Prepare in advance. For investing, that means:
1. Acknowledge Worst Case Scenarios, and Prepare for them
Most advisors that work with us begin by looking at the range of market experience and building portfolios to attempt to navigate a broad range of environments. The idea is that when markets make moves, portfolios are prepared. Instead of being surprised, investors can play the role of well-prepared test takers, even in the face of adversity.
2. Avoid Making Big Bets based on Market Predictions
The financial crisis created a sense of vulnerability that remains a part of our psychology. When markets turn lower investors ask, "Is this the next financial crisis?" That fear may cause some investors to leave the markets and hold conservative investments. Since March of 2009, however, the value of risk assets has increased dramatically. Regardless of your emotions at any time, it's key to avoid allowing those emotions to dictate investing decisions.
3. Create an Investing Environment that Fosters Preparedness
One of the most common mistakes that investors make is to constantly watch the markets. Too much exposure to market news can make investors feel like they need to react. An easy step to make is to limit the number of times that you look at your portfolio. We recommend viewing portfolios quarterly and making decisions about them once per year or when there has been a significant change in your circumstances, ideally in the context of a meeting with your advisor.
At Toews, we don't depend on market predictions as a part of our process. We would always prefer that markets advance and generate returns for our investors. Yet, our primary role as an asset manager is to attempt to limit the risk of extreme losses. Having managed portfolios with a risk management objective for over twenty years, we seek to deliver on that mandate. As you encounter news about trade wars, recessions, and stock market declines, we encourage you to find your own market zen, not unlike sitting down well prepared for a test.
Important Risk Information
Prior performance is no guarantee of future results. There can be no assurance, and individuals should not assume, that future performance of any of the portfolios referenced will be comparable to past performance. There can be no assurance that Toews will achieve its performance objectives.
This commentary may include forward-looking statements. All statements other than statements of historical fact are forward-looking statements (including words such as "believe," "estimate," "anticipate," "may," "will," "should," and "expect"). Although we believe that the expectations reflected in such forward-looking statements are reasonable, we can give no assurance that such expectations will prove to be correct. Various factors could cause actual results or performance to differ materially from those discussed in such forward-looking statements.
This commentary is intended to provide general information only and should not be construed as an offer of specifically-tailored individualized advice. Please contact your investment adviser, accountant, and/or attorney for advice appropriate to your specific situation.
Investors cannot invest directly in an index. The S&P 500 Index is a market value weighted index and one of the common benchmarks for the U.S. stock market.
Exchange Traded Funds involve risk including possible loss of principal. An investor should consider the Fund's investment objectives, risks, charges, and expenses carefully before investing. This and other information about the Fund is contained in the Fund's prospectus, which can be obtained by calling 877-558-6397. Please read the prospectus carefully before investing. The Toews Funds are distributed by Northern Lights Distributors LLC, member FINRA/SIPC. Toews Corporation is not affiliated with Northern Lights, LLC. For additional information about Toews, including fees and services, send for our disclosure statement as set forth on Form ADV by contacting Toews at Toews Corporation, 1750 Zion Road, Suite 201, Northfield, NJ 08225-1844 or (877) 863-9726. 8093-NLD-11/5/2019.
(i) Pickert, R. (2019, October 1). U.S. Factory Gauge Hits 10-Year Low as World Slowdown Widens. Retrieved October 4, 2019, from https://www.bloomberg.com/news/articles/2019-10-01/u-s-factory-gauge-sinks-to-10-year-low-as-employment-wobbles.
(ii) Curtin, R. (2019). August 2019 survey results. Surveys of Consumers/University of Michigan. Retrieved from
https://data.sca.isr.umich.edu/fetchdoc.php?docid=63703
(iii) P. Hickey, J. Walters, G. Pearkes, J. Gordon, and J. Meisel (2018). The Bespoke Report 2019 Prognostication. Retrieved 02/12/2019 from bespokepremium.com
(iv) Ibid.
(v) Ibid.
(vi) Ibid.